Fire flow tests are conducted to confirm the strengths and weaknesses in a water system. Fire Flow Testing is required under NFPA 291 and should be conducted every five years according to the NFPA (AWWA every 10 yrs).
Testing is also an information collection tool for engineering purposes during the planning stage to design municipally water systems and privately owned building projects.

NFPA 291: Recommended Practice for Fire Flow Testing and Marking of Hydrants
What Is NFPA 291?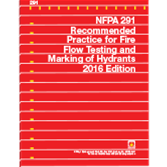 NFPA 291 provides guidance on fire flow tests and marking of hydrants in order to determine and indicate the relative available fire service water supply from hydrants and to identify possible deficiencies which could be corrected to ensure adequate fire flows as needed.
The standard addresses the criteria for determining the rate of flow available at various locations for fire fighting purposes, classifying hydrants in accordance with their rated capacities, and color-coding hydrants to indicate their class. Specific testing coverage includes rating pressure, use of pumper outlets, determination of discharge, calculation results, and system corrections.